Costumes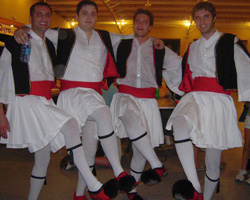 Foustanella/Tsoulias – This costume is declared the national costume of Greece for men. The costume gets its name from the pleated white skirt that consists of 400 pleats symbolizing the years during which Greece was under Ottoman rule. The remainder of the costume is composed of a white shirt with very wide sleeves, an embroidered wool vest called the "fermeli", a sash worn around the waist, and Tsarouhia which are pointed shoes with a large pompon.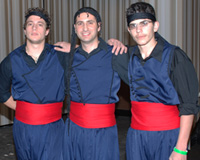 Vraka - These costumes are typically island costumes with some variations depending on what island they represent. It consists of a white shirt, baggy trousers, an outer jacket, a sash, and a tasseled cap or hat.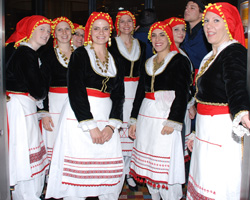 Crete- Crete is the largest and most populous of the Greek islands and the fifth largest island in the Mediterranean Sea. It forms a significant part of the economy and cultural heritage of Greece while retaining its own local cultural traits. This costume consists of an undershirt, pantaloons, and a front and back apron. The black jacket is richly adorned with gold embroidery and a maroon or red headscarf with dangling tassels.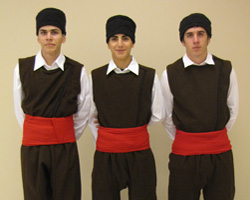 Thraki Men - Thrace is a historical and geographic area in southeast Europe. As a geographical concept, Thrace designates a region bounded by the Balkan Mountains on the north, the Aegean on the south, and the Black Sea on the east. This costume consists of a white undershirt, with brown wool vest and pants, and a bright red sash around the waist.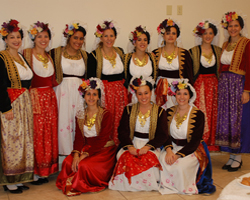 Corfu - Corfu is a Greek Island in the Ionian Sea. It is the second largest of the Ionian Islands. This costume consists of a white cotton camisole, a silk shirt, a gold embroidered velvet vest, as well as a silk apron. The headpiece is adorned with flowers and white tulle.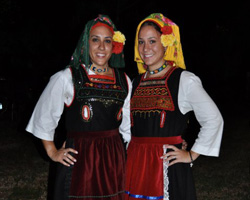 Metaxades - Metaxades is a town and a former municipality in the region of Thrace, Greece. Metaxades is located in the northern part of the Evros regional unit, on the border with Bulgaria. This costume consists of a white embroidered under-dress with long sleeves, a wool over- dress that is heavily embroidered around the chest with openings to the right and left (through which the village women breast-fed their babies) and an apron held in place by the famous Thracian enameled belt. The headdress consists of several multi-colored floral scarves which are decorated with flowers.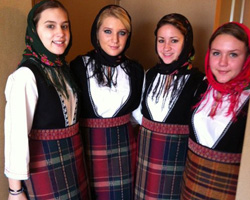 Drama - The prefecture of Drama is one of the most remote administrative areas of Greece. It shares a northern border with Bulgaria, and is surrounded by three Greek prefectures, Kavala (south), Serres (west) and Xanthi (east). The capital of the prefecture, Drama, is located at a distance of approximately 670 kilometres from Athens, and at a distance of 153 kilometres from Thessaloniki. This costume consists of a white embroidered under-dress with long sleeves, black wool over coat that ties in the front, and a plaid apron with long braided ties. The headdress consists of a multicolored red floral scarf that is tied around the head and neck.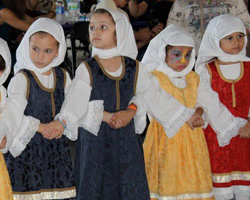 Antiparos - Antiparos is a small inhabited island in the southern Aegean, at the heart of the Cyclades, which is less than one nautical mile from the island of Paros. This costume consists of a white petticoat with lace, a brocade fabric jumper, and a white headscarf which twisted and bound around the head in a special way.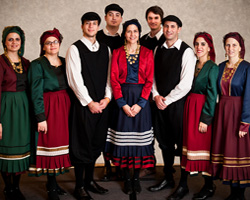 Pieria - Pieria is one of the regional units of Greece and is located in the southern part of Macedonia, in the region of Central Macedonia. This costume consists of various colored underdresses, a pleated colorful apron, along with a pleated, silky, full dress that can be made in many different colors.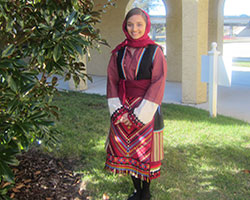 Orini, Serres - Women's costumes of Orini are characterized by the same basic elements that make up the majority of village costumes in the Balkans (underdress, middle dress, overcoat, sash, apron, stockings and head kerchief). Like all of the costumes of Greece, they differ according to the circumstances under which they worn (i.e. denoting every day wear, to mark festive or nuptial occasions, to denote single or married status).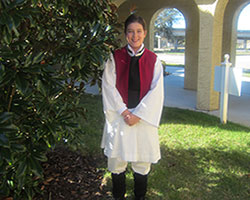 Orini, Serres - The men's costume is composed of a riza that gives the impression of a foustanella, pants, long-sleeved undershirt, dark colored closed undervest, a zonari, woolen open overvest, leggings, and a fez.






greek doll costumes
These 18" Greek doll costumes are exclusively hand-sewn by Anastasia Lagoutaris. Anastasia has been a Greek folk dance instructor for over 15 years. It was during this time that she began making traditional Greek costumes for the children and adults of her dance group. Her costumes were created based on research of authentic Greek folk wear. It was at the request of her customers that she began to make costumes for dolls. Anastasia is proud to introduce this first series of costumes representing 4 different regions of Greece. If you are interested in purchasing these dolls, please contact sglagos@bellsouth.net for more information.